Regular price
Sale price
$39.00 USD
Unit price
per
Sale
Sold out
A wise man once said, "the only thing better than fake keyboard VSTs would be real, vintage B-3 Organ & Clavinet loops and samples performed by a master musician". Well, we owe that wise man a drink because we're happy to announce that day is finally here. Introducing Wil Blades B-3 Organ & Clavinet Vol 1.

This library features 1 GB of custom loops and samples meticulously recorded on a 1962 Hammond B-3 and a 1973 Hohner Clavinet D6, and covers a wide range of grooves and genres including funk, soul, blues, pop, r&b, and gospel. All of the content is methodically organized into folders for instrument, key, and tempo, allowing you to quickly find exactly what you need to drag and drop into any DAW.
Want to save over 90%? Download The Ultimate Bundle and get instant access to every library in The Yurt Rock catalog!
*Drum loops sold separately

Works in all DAWs:


Product Specs:
Number of Loops & Samples: 261
File size: 1 GB
Number of Sessions: 26

- Instant Download
- 100% Royalty-Free
- 24 bit 48 kHz WAV Audio (Works in any DAW)
Credits:
Hammond Organ engineered/mixed by Curtis Kelley and Devin Runco at Tone Town
Clavinet engineered/mixed by Wil Blades
Cover Photo by Ryan Hughes
About Wil Blades:
2020 was set to be a year of fresh starts for Wil Blades, long before there was any indication that a global pandemic would soon change everyone's lives. Just last summer the acclaimed organist had moved to Los Angeles after spending more than two decades – basically his entire professional life – in the Bay Area. Already in demand and spending much of his time on the road, Blades looked forward to forging closer ties with longtime collaborators and embarking on new sonic adventures in the City of Angels.

Like so many of our well-laid plans, those hopes were dashed with the onset of quarantines and lockdowns, which left Blades and the vast majority of his colleagues feeling trapped as across the country and around the world, venues were shuttered and festival stages stood silent. Needing an outlet, Blades soon set to work on creating a set of music fit for these uncertain times. The result is his first self-released venture, Kaleidoscope People, an aptly vibrant, multi-hued collection of slow jams and sultry grooves due out 12/18.

"I needed to make music somehow," Blades says. "I understood early on in the pandemic that this was going to last a while. It would have been easy to give up and just watch TV or focus on practicing, but I realized that in order for me to be sane I would have to keep working."

The occasion brought on an unanticipated change in direction. Since he took up residency at John Lee Hooker's Boom Boom Room in San Francisco when he was barely old enough to enter the club, Blades has garnered international recognition as one of his generation's leading organ players. He's been called "the future" by one of the instrument's masters, Dr. Lonnie Smith, and perennially tops the "Rising Star – Organ" category in the renowned DownBeat Critics' Poll. Blades has performed and recorded with a wide range of artists including John Lee Hooker, John Scofield, Nicholas Payton, Bernard Purdie, The Headhunters, Joe Louis Walker, Idris Muhammad, Adam Deitch, Karl Denson, Donald Harrison Jr, Scott Amendola, Billy Martin and Stanton Moore.

But the organ has not always been Blades' instrument of choice. He began playing drums at the age of 8 and switched to guitar at 13. When he discovered the Hammond B-3 at 19 there was no doubt that he'd found his voice, but he always knew that he had those other skills in his back pocket. So when circumstances imposed some unexpected limitations, Blades realized it was time to reach back into the other weapons in his long-neglected arsenal.

Ironically, it was the very move that was meant to bring about new opportunities that forced him to adopt some inventive workarounds. In the Bay Area, Blades and his family had lived in a three-bedroom house in which he maintained his own music room. In L.A. they shared a duplex with neighbors, and the lockdown meant that Blades had to share a workspace with his wife, a film editor who suddenly found herself working from home.

"I have neighbors upstairs now, so I don't have free rein to just play whenever I want like I did at our old house," Blades laments. "A major part of this project has been figuring out a way to make music late at night on headphones. It wasn't a conscious move away from the organ so much as needing to make music somehow under less than ideal conditions."

The answer was a combination of analog synths and guitar recorded at home accompanied by programmed drums, most of which Blades later replaced with live drums captured at his local practice space. In addition, Blades' longtime collaborator (and fellow Chicago transplant) Jeff Parker contributed guitar to "Wolfgang," and producer/multi-instrumentalist Joe Bagale, aka Otis McDonald– Blades' recording mentor – plays drums on two tracks.

Whether it was the lateness of the hour when Blades found time to record; the fact that much of the music was penned on guitar while the basketball addict watched classic games on TV; or the need for an escape from the hectic and tumultuous realities of the outside world; Kaleidoscope People soon took on a laid-back, chilled-out vibe that conjured a much-needed pause for breath and relaxation for the artist himself, as it surely will for listeners. The environment in which it was recorded is brought vividly to life by Blades' own recordings of the nocturnal sounds around his home, both the idyllic chirping of crickets and the disruptive clamor of sirens during last summer's protests. This is truly headphone music, in more ways than one.

"I don't generally listen to my own music," Blades admits. "It's uncomfortable, like hearing your own voice on an answering machine. But Kaleidoscope People was so therapeutic for me that I ended up listening to it a lot."

The EP's opening track, "Second Rate," was one of the tunes born against the backdrop of a vintage NBA game, and its infectious, optimistic groove reflects the inspiration Blades derives from his sports heroes. "Basketball players have the ability and mental attitude to always work through hard problems," he explains. "That's been really inspiring to me, not just during the pandemic but as a musician in general. Musicians constantly put themselves in vulnerable positions, releasing very personal music that is bound to get criticized and picked apart." (The title, not coincidentally, is a reminder to never read the comments.)

The shimmering "Hallways" is named in honor of Blades' close friend and fellow keyboardist Nigel Hall, but the double meaning also suggests a pathway to other places, with different options behind every door. Anchored by Bagale's taut rhythms, the piece evocatively captures the feel of unwinding after a tense situation, using whatever means offers the best freedom from life's stresses. The distant echoes of police sirens intrude to introduce the more agitated "Wolfgang," a heartfelt tribute to a family member that features Jeff Parker's wiry fretwork. The heady "Los Feliz" is named for Blades' newly-adopted neighborhood, while the uplifting "Om" borrows the magical sound of Stevie Wonder's doubled clavinets and synths as a loving celebration of a close friend who survived a near-fatal car accident.

Despite the unprecedented nature of the circumstances, Kaleidoscope People in some ways also felt nostalgic and freeing. "When I was in high school and had just started playing keys, I was always making little tunes and jams on my 4-track recorder," Blades recalls. "In some ways, this album took me back to the feeling of being a kid in my parents' basement making music just for myself. It seriously became therapy for me during all this craziness."

Wil Blades Live w/ John Scofield and Scott Amendola:Wil Blades Live w/ The Adam Deitch Quartet:
Share
View full details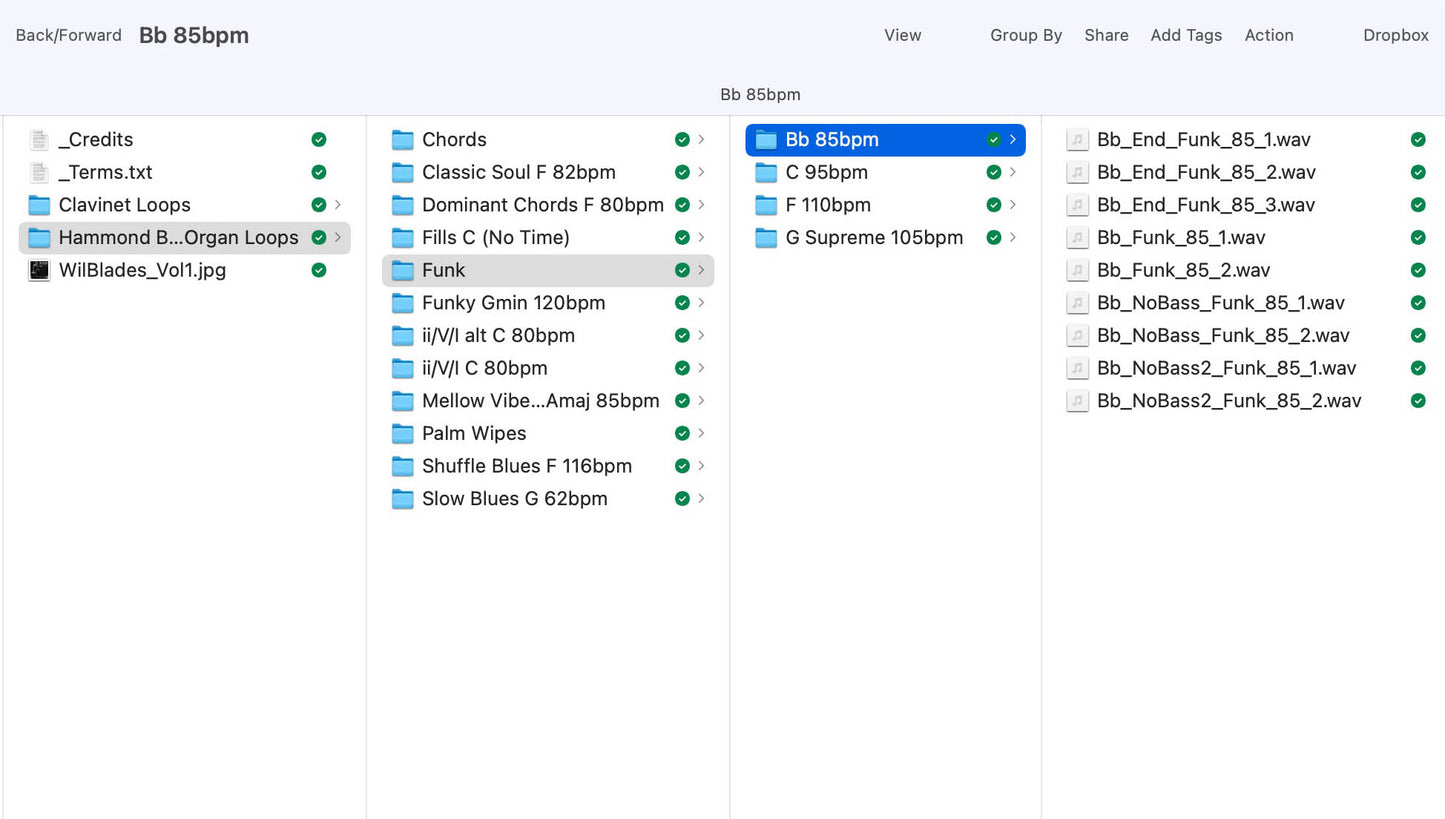 Have a question? Welcome To The FAQ Section:
How will I receive my order?

Immediately following checkout, you will receive an email containing your download link(s) & you will always have access to your files.
List another frequently asked What do you mean by "works in all DAWs"?

For each release that you download, we provide everything into organized folders (by bpm and tempo) that allow you to quickly find the loops and samples that you're looking for. From there, simply just drag and drop the file into Logic, Ableton, Pro Tools, FL Studio and any other DAW that you might be using.
Yurt Rock products are 100% Royalty-Free. What exactly does this mean?

This means that you can use any of the loops purchased from Yurt Rock in your own songs and you are free to sell the recording commercially without owing us any money. It's that simple.